Dolly Parton's Imagination Library for the El Reno Area
Dolly Parton's Imagination Library is a book giving program that will provide a FREE book each month for a child from the time they are born until their 5th birthday. The El Reno Carnegie Library is proud to be bringing this program to Canadian County* for the first time! See the FAQ at the bottom of the page for more information.
Reading to young children not only increases literacy, it also improves outcomes across the board!
All children who were registered before the 1st of each month will receive their first book in the following month! Ex. Register by May 1 to receive your first book in June.
*This program is only available for residents of El Reno, Calumet, and Union City.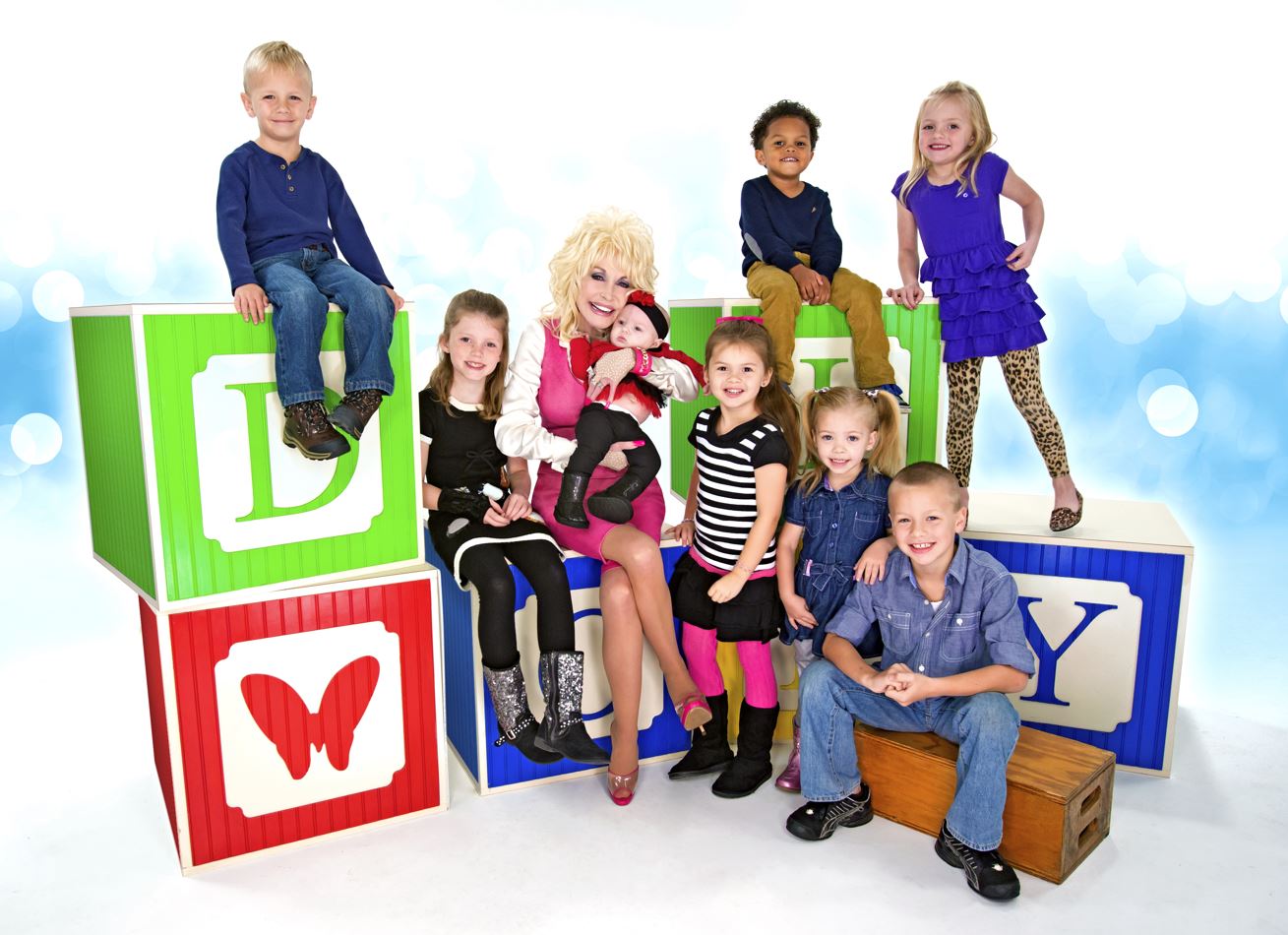 Step 1: Register
Parents must register each child under five in their family. Signing up online is the easiest and quickest way to enroll, or you may complete a bilingual paper registration form. Once you have registered, you should receive an email directly from Imagination Library confirming your acceptance into the program.
If you believe you should be eligible based on your address, but  you are having trouble registering, please email us and provide your mailing address or call or visit the library so we can check your eligibility and make adjustments to our system as we roll out this service.
Step 2: Read
Reading with your child every day is one of the best ways to prepare them for success in school and life. Your child's first book will arrive in 8-10 weeks. After the initial wait, your child will receive a book every month until they turn 5! Please keep in mind that we are not involved in the shipping process. All books are sent through the US Postal Service.
Step 3: Keep Your Address Updated
Parents must update their address each time they move. Books are not forwarded with the mail. Visit the online Parent Portal to update your profile.
*Numbers are updated monthly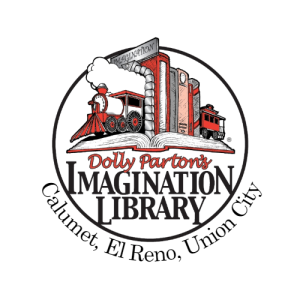 Dolly Parton's Imagination Library puts books into the hands and hearts of children across the world. They partner with local communities to provide a hand-selected, age-appropriate, high-quality book each month to registered children from birth to age five.
El Reno's partnership with Dolly Parton's Imagination Library will put books in the hands of children by meeting people where they're at - home!
This program is open to all children who reside either full-time or part-time at an address with a zip code of 73036, 73090, or 73014. Children must be 4 years and 11 months old or younger to qualify. Any child older than 4 years and 11 months at the time of registration is not eligible for the program.
There is no cost to families for enrolling children, though donations to the program are always welcome!
The fastest option is to fill out this online form, or if you'd prefer you can mail in a paper form to register, however it does take longer to manually process.
No. Registration is ongoing. However, please keep in mind that only children ages birth to 4 years and 11 months old are eligible to receive books. If your child is older than 4 years and 11 months at the time of registration, they will not be eligible for the program.
Children will receive books that are appropriate for their age. They are selected by professionals who choose books that reflect a diversity of people and cultures, and that promote self-esteem and a love of reading.
Each year, the esteemed Blue Ribbon Book Selection Committee, a specially selected panel of early childhood literacy experts, is responsible for reviewing hundreds of potential titles for inclusion in Dolly Parton's Imagination Library national. The Blue Ribbon Book Selection Committee is a part of the Dollywood Foundation in Tennessee and takes great care in choosing books that meet the different needs of children as they progress from birth to age five. This committee select books for all national and international affiliates. All books are published by Penguin Random House. For more information, please visit the Imagination Library's site.
Thanks to a collaborative effort between Dolly Parton's Imagination Library, American Printing House for the Blind (APH), and Penguin Group, USA, an ever-expanding collection of titles will be available as free downloadable children's audio books and for those who prefer, there will be many titles available in braille from APH. These will be offered free-of-charge to eligible families and may be purchased at a low cost by all others. For more information, please click here.
The program provides two titles of bilingual (English/Spanish) books per year and are always looking to expand their selection. Unfortunately, there is no option to receive all books as bilingual at this time or to receive bilingual books in languages other than English/Spanish.
After you register your child, it may take up to 6 to 9 weeks for the first book to arrive. After that, the books will arrive every month. However, books can arrive at any time in the month, and children in the same household may not receive their books on the same day.
Regardless of the number of eligible children in your household, every enrolled eligible child will receive their own personalized book each month.
Each child within an age group receives the same monthly book. Imagination Library makes sure children receive an appropriate book by allocating them to an age group based on their year of birth. 
The Dolly Parton's Imagination Library Book Selection Committee rotates approximately 25% of titles for each age group each year. So, yes, your younger child will receive some of the same books their older sibling received.
If an email address was added to your child's record upon registration, this will serve as your username. If you do not know your password, please request a new password using the New Password/Forgot Password link on the login page. If you require further assistance contact our Imagination Library team via email - imaginationlibrary@elrenolibrary.org
If you move, please log into your account to change the primary address you have listed in your account. Books will not be forwarded with the rest of your mail.
Make sure your account and mailing address are up to date by going to the login page and verifying your information. If you are unable to resolve your issue contact our Imagination Library team via email - imaginationlibrary@elrenolibrary.org
No. You must be the child's parent or legal guardian to register them for this program.
Donations can be made via check or online. Checks can be made out to our affiliate partner - Wesley United Methodist Church, payable to Wesley Missions, with "Dolly" in the memo line. They can be mailed to 101 S. Barker, El Reno, OK 73036 or dropped off at the library. Online donations can be made here. Be sure to indicate that your donation is going to the El Reno, Union City, Calumet program!
2023 Book Title Selections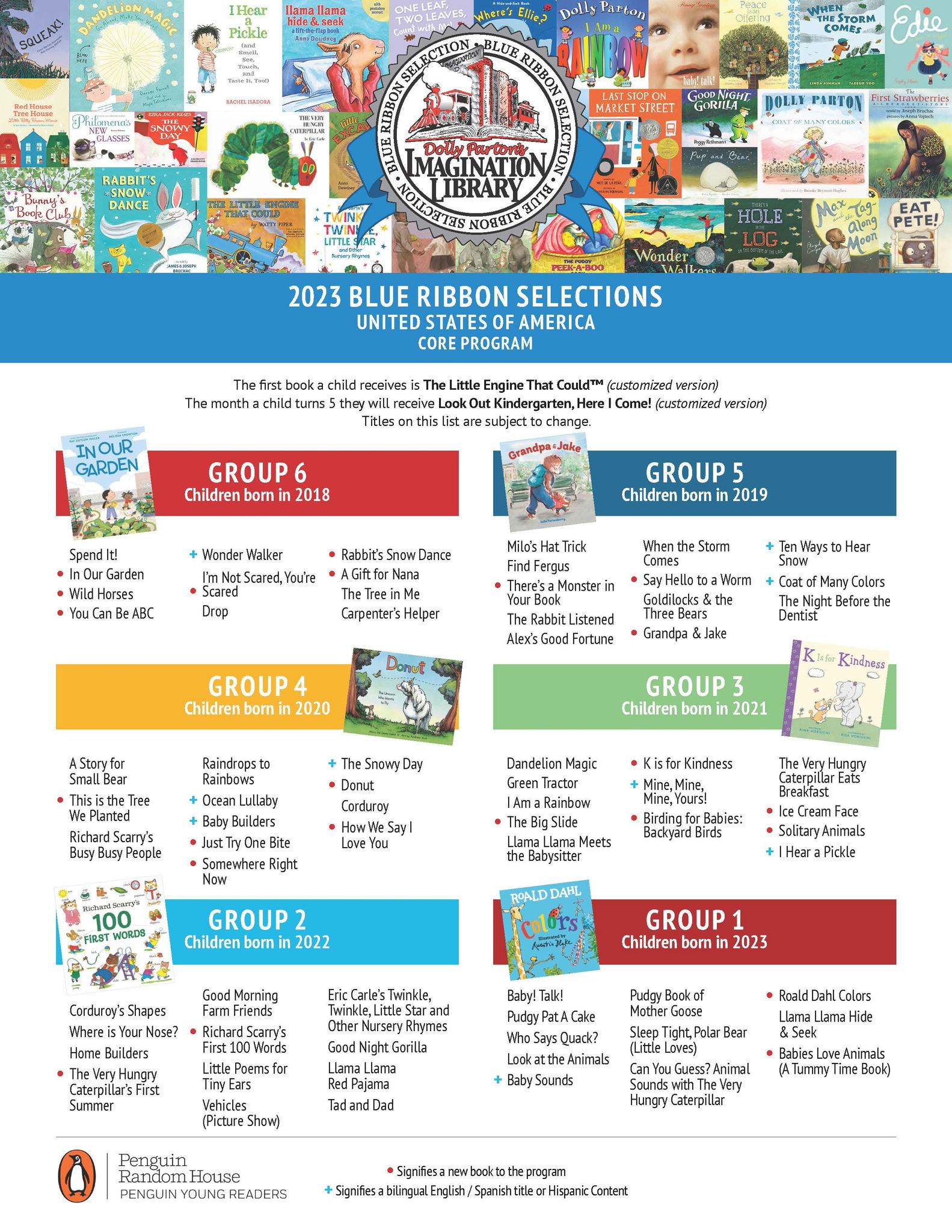 This program is made possible by generous funding from the Mary K. Ashbrook Foundation for El Reno, local donors, and the Imagination Library affiliate partner, Wesley United Methodist Church.